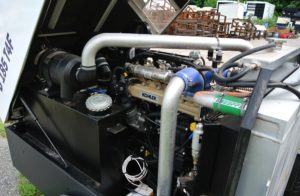 FTG Technical Tuesday – Air End Maintenance
High quality rotary screw compressors such as those offered for sale by Rotair are designed, engineered and built to provide many years of reliable service. However, a screw-type air compressor is a complex machine consisting of many moving (and non-moving) parts and components. Regular preventive maintenance is essential for ensuring efficient operation, a long air compressor lifespan and reduced downtime due to the need for unscheduled repairs.
The Air-End, is the heart of any rotary screw compressor: This is where the actual compression takes place. Air-Ends can be damaged by excessive heat, contamination in the air and even dirty rotary screw compressor fluid. Your preventive maintenance procedure should include regular Air-End inspections — excessive noise and vibration can also be a telltale sign of an Air-End issue.
One of the easiest and most cost-effective ways to prevent premature wear is to replace your rotary compressor's filters on a regular basis, as this will reduce Air-End wear and component contamination. Replacement of air inlet filters and compressor oil filters is recommended every five hundred (500) hours, and you should change the fluid every one thousand five hundred (1500) hours.
Have a technical question on an air compressor or generator? Give us a call at 855-303-7900 or email nick@ftgequipment.com
http://69.89.31.236/~ftgequip/wp-content/uploads/2016/10/ftg-logo.png
0
0
Lorrie Adler
http://69.89.31.236/~ftgequip/wp-content/uploads/2016/10/ftg-logo.png
Lorrie Adler
2017-11-14 13:13:45
2017-11-14 13:13:45
FTG Technical Tuesday - Air End Maintenance